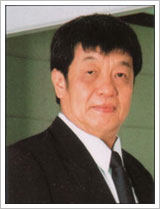 An architectural engineer with extensive years of experience, Mr. Khoo Tian has invented the O-Stable Panel System – a unique prefabrication system created for versatile usages that can tailor to the needs of any layout and design required by an architect. Besides cost saving, the system also allows luxury homes with sophisticated architectural design to be constructed faster with almost zero defect.
Launched in the year 1999, the system has gone through over 10 years of research and development, involving an investment of some RM 10 million. Using this method, construction of building is something like configurating a model home with lego toys.
Drawing the concept from ancient Chinese geomancy. Mr. Khoo Tian believes that "To restore architectural structure of the modern days, it is essential to preserve the best while doing away with the gaudy aspect of the building."
Based on the above principle, he has developed a construction method whereby a set of flexible fiberglass mould or metal mould can be specially designed to precast concrete panels that easily meet the standards set by either the architect or the house owner.
The concrete panels can be tailored to meet any size or any design. With only standard vertical joints and standard horizontal joints, these panels enable the construction structure to achieve refinement while maintaining simplicity and unparalleled quality. In other words, quality control that normally dependent on man is now monitored by the system.
The system has been successfully used to build about one thousand units of various houses in Malaysia. Effort is being made to expand the usage in more variety of buildings.